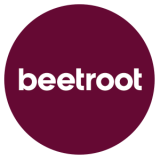 Creative Communications Agency
2 Bath Place
Rivington Street
London
EC2A 3DR
Tel: + 44 (0) 20 7749 0180
info@beetroot.co.uk
Follow us
Old Street Station
Journey time 5 mins
Leave Old Street via subway 1 and head east along Old Street until you reach Sainsbury's Local. Cross Old Street and head east along Great Eastern Street. You will see Rivington Street almost immediately on your left. Bath Place is about 300 metres on the left.
Liverpool Street Station
Journey time 10 mins
Leave Bishopsgate Exit – east escalators. Turn left and walk north along Bishopsgate for about five minutes. Turn left at Great Eastern Street, cross the road and turn right at the junction with Curtain Road. Walk along Curtain Road and turn left into Rivington Street. Bath Place is three minutes down the road on the right-hand side.